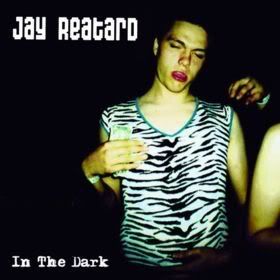 If you actually have a copy of
In the Dark
, an EP released this year by
Jay Reatard
on
Squoodge Records
, consider yourself lucky. Jay is known for frequently pressing limited numbers of his 7 inches, but this time the reason for the record's rarity rests with another (I am always attempting alliteration). Although In the Dark only contains one new song (two of the songs being different, much slower versions of songs from
Blood Visions
, demos perhaps), it's pretty rare, having been involved in a bit of a scandal.
Apparently the EP was oversold, and, when various people wrote to Squoodge to inquire as to why their record had not arrived, they were met with the same uniform and suspect letter alleging that the record must have been stolen out of the mail.
Ironically enough, when you visit Squoodge Records, you are immediately greeted with the cover of a "European Tour Single" by
The Rip Offs
.
On the Goner Message Board, Jay had this to say:
"Yeah FUCK Squoodge Records !!! This guy ripped me and fans of my records off on this project ... He pressed a run of 49 six inch square records with a different sleeve with out even asking me... Then had a buddy put a few on ebay at over $250.00 bucks a pop.. I'm really sorry to anyone who got ripped".
OUCH.
The track listing is:

In the Dark

Searching for You (Nightmares)

Haunting You (Fading All Away)
In other Jay Reatard related news, Eric Oblivian (of
the Oblivians
and
Goner Records
) let slip that the Reatard will be releasing a singles collection, not a bad move considering the number of EPs he has released and plans on releasing (apparently he has signed a deal with
Matador Records
to put out a single every two months for the next year).