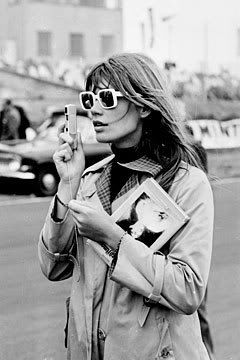 Inspired by the Les Désaxés post, I've decided to put up a few other versions of
Françoise Hardy's
"Je Veux Qu'il Revienne", which is probably my favorite song by the "Yeh-Yeh" (Yé-Yé?) girl from Paris.
Below you will find the original version, as well as the atrocious English language "Only You Can Do It", which comes from Françoise's album
All Over the World
(featuring songs performed in English, German, Italian and Spanish). Not only are the lyrics vacuous (not that the French version exudes intelligence, but at least it sounds nice), but her accent here leaves much to be desired, sounding very awkward and downright stupid. One good thing about the English version, however, is that it is a different instrumental recording as well, allowing you to hear parts of the song not previously audible (plus a country lick thrown in at the end of the chorus for good measure).
Additionally, below you will also find (when I get home and update the blog again)
The Fevers
cover of (ugh) "Only You Can Do It" from their album
Love Always Wins
.
Her orgasmic delivery of "oh oh oh" should win over even the darkest of souls:

Françoise Hardy - Je veux qu'il revienne

Françoise Hardy - Only You Can Do It

The Fevers - Only You Can Do It